More than just a whirlwind
What I learned from hosting a month of poetry prompts.
A few days before the end of September I put a poll on my Instagram Story: Should I do a prompt list?
Months earlier, running out of steam on my 100 Day Project, I had turned to prompts on Instagram–primarily geared towards poetry–to keep me motivated and fueled for daily creation. It was so helpful to me that I never turned back, often incorporating them to conjure the beginning of a piece or in revision to strengthen a poem with a metaphor or image I wouldn't have considered.
I figured this would be my chance to give back to a poetry community that had so inspired me, and luckily the answer was quick to come in: people wanted prompts.
How I created my prompt list
For me, it was a simple and gradual process. In August, I started collecting words and ideas in my notes app. They'd pop into my head while reading, writing, or just being out in the world, and I'd suddenly think, "I'd love to see that in a poem, even if I'm not the one writing it." Onto the list it went, slowly throughout August and into September.
As I put the finishing touches on my #finesseprompts list, I noticed other October prompt lists getting shared. Many of these lists included spooky-inspired prompts. Two poets teamed up to do "Literary Shocktober," inspired by bloody and monster-y classic literature. Another wrote an entire list based on the works of Edgar Allan Poe. And so on.
Mine? Totally seasonally agnostic.

This isn't a big deal, except that it's common for Instagram poets to respond to multiple prompts within a single written piece. Would my list work for someone who wanted to write spooky things?
I analyzed the prompts:
"Suffocate"? Excellent.
"Include 3 body parts starting with the same letter"? Doable.
"I Should Live in Salt" (after a song by The National)? Visceral.
Okay, this would work.
Which prompts were most successful?
I recently talked with a friend who writes highly structured rhyming poems that lean on absurdity, onomatopoeia, and humor. They are truly delightful. But they aren't trendy, he laments. It's been impossible for him to get traditionally published and to sell self-published work because "it's not the current formula."
So what is the formula? What can #finesseprompts teach us about what's popular among Instagram poets right now?
As of this writing (Friday night, Oct 30) there have been 156 posts that use the tag #finesseprompts. The platform is currently blocking all hashtagged content from being seen in reverse chronological order to avoid the proliferation of questionable political content leading up to Election Day, so the following stats are close but not perfect.
You ready to nerd out over some data?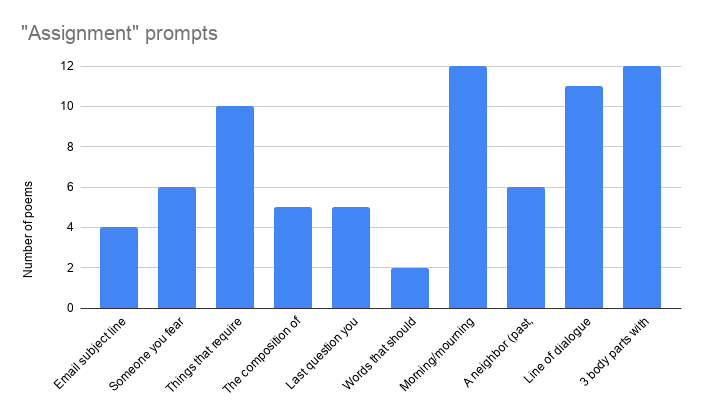 Unsurprisingly to me, the "assignment" prompts were the most popular, with 73 total responses. If you are starting completely from writer's block–and thus turning to prompts–a prescriptive idea is more likely to get you going than a single word or line.
I fully anticipated "Things that require hopefulness" to be one of the most popular prompts, since list poems are always enticing. "Use both morning and mourning" also has a clear poetic and emotional resonance, so that makes sense too.
I was a bit surprised that the "3 body parts starting with the same letter" prompt was one of the top choices in this category, and that almost nobody responded to "words that should be snarled." The prompt "incorporate an email subject line" only got 4 responses, but those were some of my favorites of the whole month. Quantity and quality are not necessarily the same!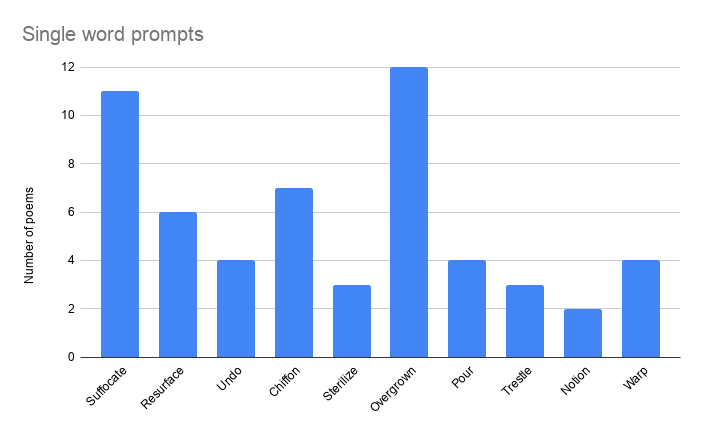 Single words were the next most popular approach, coming in at 56 responses. The data here is likely a bit skewed, because a few individual posts included several of the single words, versus the "assignment" prompts which were rarely combined with other prompts from my list.
The popularity of "suffocate" was very expected–we poets are often writing about (metaphoric or literal) breathing and drowning and choking–but I was surprised to see "overgrown" resonate so much! Nature imagery is common too, but grass isn't the most poetic plant, and I so strongly associate that word with suburban lawn care.
I'm thinking "sterilize" and "trestle" may have felt too specific or uncommon, while "notion" felt too formal.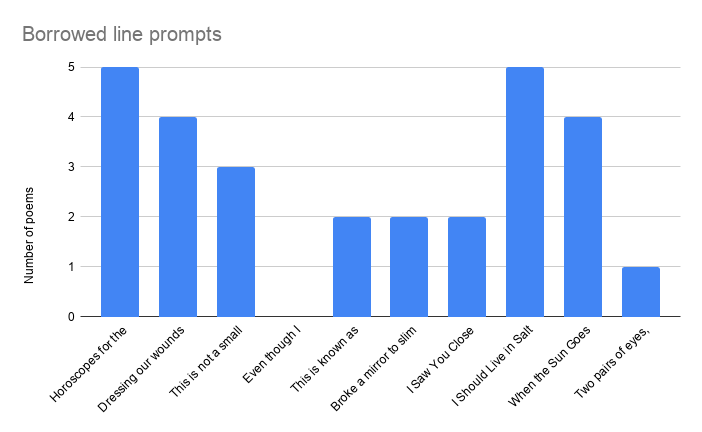 The borrowed line/song title prompts were drastically less popular, with only 28 responses. Some people don't like writing "after" poems, and including a full line might clash with certain poetic styles.
No single prompt got more than 5 responses, with "Horoscopes for the Dead" (after Billy Collins) and "I Should Live in Salt" (after The National) topping the list. I definitely predicted the former, and could have probably assumed the latter as well. I'm a bit disappointed nobody responded to Jason Reynolds's "Even though I answered years ago, the knocking continues," but then again, I didn't either!
I did think the two "eyes" prompts ("I Saw You Close Your Eyes" by Local Natives and "Two pairs of eyes, gazing only at each other" by HMVU) would get more traction, but they may have felt a bit cliche or they may have cannibalized each other's popularity.
Takeaway: the most popular prompts were poignant on their own and encouraged first-person poems about emotive experiences.
What I learned from running prompts
Creativity is so cool
Okay, duh. But every day in October I woke up and was astounded at how no two interpretations of any prompt are the same. For example, the fairly prescriptive prompt "title your poem 'things that require hopefulness'" implies a straightforward list poem, but it spurred lists and sectioned poems and meta commentaries on hope in general. The only similarity between them was an identical title. One poet even spun it into "people that require hopefulness" instead.
All of that is not only allowed, but encouraged. Prompts are just a starting point, and each individual poet gets to put their unique perspective into responding.
Perfectionism is not very cool
Okay, also duh. Battling perfectionism is a big thing for lots of creatives, and I chose to tackle it this month not through the writing itself but by hosting Instagram Live readings of some of my favorite prompt responses.
Watching yourself on camera, monologuing to a live audience for 30+ minutes is a little scary and definitely triggers imposter syndrome. But I did it, people came (and even more people watched the recording afterward), and it was another dent in perfectionism.
Engaging is exhausting
The general expectation is that if someone writes for your prompt that you'll at least comment, and likely share to your Instagram Story too. I found myself staring at my screen far more often than usual this month.
Plus, at the beginning of October, I felt obligated to write and post my own work daily, to churn through the list myself. Eventually I gave up on that pipe dream, and I'm ready to have a quieter November without the pressure to engage as much.
Prompts are fun!
From curating the list, to writing your own responses, to seeing what others come up with and feeling a sense of collaboration with them, prompts have proven to been a great way to connect more deeply and frequently with other writers and poets, to analyze my own work, and to give inspiration back to the community that rekindled my love of writing and creativity.
Despite the sliiiiight burnout, I'd definitely do it all again...after this year winds down. And hey, the #finesseprompts hashtag lives on, the list is forever live, and the writing doesn't have to end just because the month does.
---
A Rec or Two
A few months back I was watching the new season of Dating Around on Netflix, found myself Googling the cast (as you do), and discovered that Justin from the show runs a creativity group and newsletter called Curious Tribe. I loved this pep talk about when your creativity resists you: "The bigger the goal / the closer you are to your calling / the more resistance you will feel." It's a bit woo, but it's also a reminder that overcoming fear is worth it.
Whoops, another deep email about living your creative truth. This time it's a serious of questions to consider when you're thinking about merging your career and your passion, including: "Will you use this opportunity to grow and evolve or will you use it to beat yourself up? Can you learn to enjoy the process as the end in itself, not the means? Will you default to the norms of your industry, or will you be an original?" I'm nowhere near that point, but bookmarking this one to return to when (if?) I approach it.